SERVICES

Uncertainty is part of the world, either for a physical description of the future behavior either in environmental, financial or human perspectives.
Incorporating this uncertainty in our models in a creative way is what we propose of unique.
We can provide you with a help decision tool that is both technically representative of complex inter relations and a tool for public communication
You want an efficient way to couple the environmental and economical effects?
Need to include uncertainty in water management in an efficient way?
Example in Management of water shed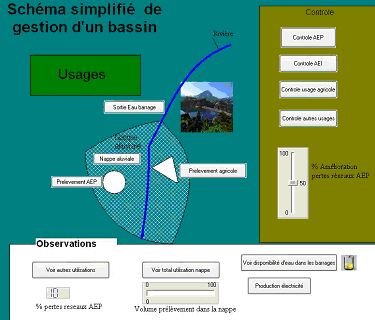 Here we have a tool to support decision in the management of water shed that takes into account the uncertainty in the rain that is expected due to the climate change on the next 10 years. Our analysis can forecast the impacts on the amount of water available ( in rivers, aquifers, dams) as well as the impacts in human activities and the budget that could be necessary to optimize the management of the water flux in the different sectors of the basin.
Risk analysis
Do you want to better understand the risks you are facing?
Do you want to understand how uncertainty impacts your risks ?
Do you prefer to manage the risk rather than suffer them?
More details
Reliability analysis
Do you need an innovative approach to test your failure models ?
Your failures can come from very complex scenarios of individual faults?
Do you need to find out what chain of actions caused a certain failure?
More details
Decision support
Do you want to study the more robust strategy?
Do you want the more efficient solution for a problem?
Do you want a defendable strategy?
More details